Mallorca ligger placeret i middelhavet i øgruppen Baleariske øer og er en del af Spanien. Øgruppen omfatter de fire største øer Mallorca, Formentera,  Ibiza og Minorca, men der er nogle mindre øer tæt ved de store øer.
Hop direkte til hvad du ønsker:
Natteliv • Mallorca og Børn • Kør selv ferie • Fincaer • Cykling • Turist attraktioner • Historie • Klimaet • Katedralen i Palmas • Grotter og Huler • Golf • Dykning • Badestrande • Badelande
Mallorca fakta
Mallorca er kendt for masseturisme og alle øerne er præget af turisme. Øens hovedstad er Palma de Mallorca men det er delvist hovedstaden for hele ø-gruppen
Skøn natur
Geografisk har Mallorca to bjergkæder og den største ligger nordvestligt på øen og det er også her at man finder øens højeste punkt der måler hele 1445 meter over havet. Den anden bjergkæde ligger sydligt på øen, den sydlige bjergkæde er en del lavere og den er heller ikke lige så lang.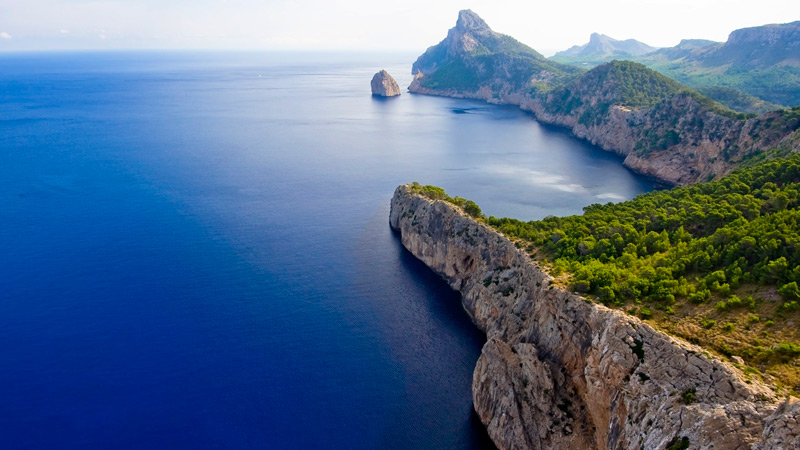 Øen er udover turisme kendt for deres natur i og med bjergkæderne men også de mange huler og dypstenshuler der ligger på øen hvor man kan finde mere end 300 af slagsen og de kan med fordel besøges og alle kan få en god oplevelse ud af det.
De største og mest kendte byer på øen er Palma, Alcudia, Sóller, Pollensa og Deiá.
Øerne ligger udfor Spaniens kyst og på øen bor der omkring 870.000 og alene i Palma bor der omkring 400.000 det vil sige lidt under halvdelen af øens befolkning.
3,640.11 km2  måler øens areal og der bor omkring 238.75/km2 men i turist sæsonerne er der lidt flere mennesker i og med at øen mest og alt er til turister og mere end halvdelen af øens befolkning har noget at gøre med turismen på øen. Øen har mere end en million turister om året og øen lever godt på de mange penge som turisterne kommer med. Det betyder også at øen er meget afhængig af turister da der er så mange der arbejder med turismen. Siden 1950'erne har øen levet af turisme og det betyder også at der er sket et enormt boom i deres økonomi i stedet for at leve som en mindre fiskerby til at blive en udelukkende turist ø.
Mange muligheder
Mallorca er helt speciel og den har rigtigt meget at byde på hvad enten man er interesseret i en aktiv ferie, med enten sport eller kultur, eller man er interesseret at ligge på en strand eller tage i et af de mange badeland der er på øen, med andre ord en god og afslappende ferie.
Klimaet på øen er godt og der er enormt mange solskinsdage på øen hvert eneste år. Den tætte placering på ækvator, gør at vejret er godt næsten hele året. Men når det er varmest er det utrolig dejligt på øen og det er genialt til at svømme rundt på de mange strande.
Der er rigtigt mange muligheder for en anderledes ferie på Mallorca og øen byder på noget for enhver forskellig smag, dette gør også at den er blevet den succes som den er blevet og er et rent paradis for turister. Der er mange forskellige muligheder og oplevelser og hver har sin egen charme.
Natteliv på Mallorca
Mallorca er kendt for det aktive natteliv og det har øen har været hjemsted for mange fester siden at øen blev "turistet" i 1950'erne. Siden da har øen haft meget præg af turismen og det bærer nattelivet også meget præg af. Turismen har gjort det muligt at åbne mange diskoteker og natklubber samt barer, her bliver der festet hver aften og natten igennem.
Stort udvalg
På grund af det kæmpe natteliv har flere klubber valgt at gøre noget specielt. Det vil sige at nogle klubber har fokus på musikken og andre har dansen eller drinksene som fokus, det vil også sige at der er noget for enhver smag. Alt fra hyggelige jazz barer, til salsafester eller pop eller house musik, Mallorca har det hele og alt har hver sin charme.
Typisk tager man i byen omkring klokken 22 om aftenen, de fleste vælger først at sidde på en bar eller en pub indtil de vælger at tage videre i byen når barerne lukker omkring klokken 3-4 stykker om natten. Herefter går det videre til diskotekerne der holder åbent hele natten og der festes igennem til den lyse morgen.
Du finder nattelivet overalt på øen, men nogle byer har også deres fokus. Palma, hovedstaden har som deres fokus at det er her at der findes flest steder som er egnet til homoseksuelle.
I Alcudia finder du et mere stille natteliv, det er godt hvis du har børnene med, og her finder du mange hyggelige restauranter og barer hvor du sagtens kan have børnene med. Mallorca er et dejligt sted at tage i byen, det milde vejr også om aftenen og udsigten til middelhavet, gør det ekstra som gør Mallorca til det specielle sted som det er.
Magaluf
Er kendt om Mini Ibiza og det lever bestemt op til navnet. Byen er en fest by og hvert år fester tusinder af unge her. Der findes mere end 100 steder at gå i byen her og mange af diskotekerne er nogle af de største du finder i hele Europa. Hvert år gæster kendte Dj's de største diskoteker og spillesteder.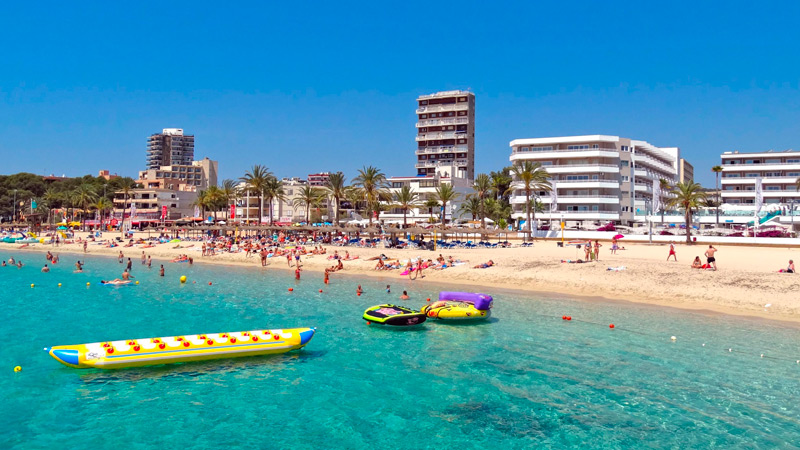 Hvis du vil opleve den ægte vare, er det ikke noget problem. Mallorca ligger nemlig ikke langt fra Ibiza hvor mange unge har deres foretrukne feriemål. Ibiza er en ren festdestination, og Ibiza er "stedet" man skal opleve hvis man vil opleve nogle af de største fester i hele verden. Det er muligt at komme til Ibiza ved at tage en færge. Mange steder på Mallorca er der havne der har afgange til Ibiza.
Hvis du hellere vil opleve det lidt mere rolige natteliv, er det heller ikke noget problem. Der findes mange hyggelige restauranter hvor du kan nyde den lokale vin og den lokale mad. Mange steder har også et form for show, det kan enten være live musik, dans eller noget helt tredje. Det er derfor også en perfekt tur i byen at starte sin aften her hvor der varmes stille og roligt op.
Mallorca og Børn
Hvis du vælger at rejse til Mallorca er der masser af aktiviteter for hele familien og lige præcis den oplevelse der passer til hver enkelt familie.
Til vandhunden
Hvis du godt kan lide vand og strande er Mallorca et oplagt ferievalg. Hvad enten det gælder at bade i middelhavet eller at tage i et af de mange vandland er der også her rig mulighed for en aktivitet alle kan lide. Især strandene på øen er meget børnevenlige, og mange af strandene er meget meget lavt vand og mere rolige end så mange andre strande i middelhavet. Hvis du derimod bedre kan lide at adrenalinsuset er der rig mulighed, der er nemlig mange vandland på øen. Vandlandede har for det meste også noget der passer til hele familien, og hvis du vælger nogle af de store vandland går du aldrig forgæves. Udover strande og vandland er der også mange pools og de fleste af hotellerne, har pools og her kan man nyde ligge og slappe af hele dagen.
Minigolf
Mallorca er kendt for at der er gode forhold for folk der gerne vil spille golf. Til de lidt mindre i familien er der minigolf. Nær hovedstaden Palma finder man Golf Fantasia der er et enormt minegolf område. Med alt fra frodig natur med små vandfald og et kæmpe dyreliv. Hvis det derimod ikke er noget er der også mange legepladser på øen. Legepladserne finder du overalt og det kan være et godt indslag især for de mindre i familien når det hele måske bliver lidt for kedeligt.
Naturen
Hvis i vil prøve noget anderledes er der ud over dyreparker også Marineland der er en naturpark for dyr der lever i vandet. Her kan man se alt fra delfiner til tropiske fisk i farvestrålende farver, ud over det er også dyr der lever på land. Det sjove ved Marineland er at mange af dyrene lever i middelhavet eller i nærheden og det gør det hele lidt mere sprængende. Hvis i har vovehalse i familien kan det være en god oplevelse at besøge naturparken La Reserva, her kan du vandre i Mallorcas smukke natur eller vælge at klatre på de smukke bjergvægge eller tage svævebanerne, alt sammen noget der er super sjovt for hele familien. Hvis i er en aktiv familie kan i forsøge jer med geocaching her kan man gå på skattejagt på hele øen. Geocaching går ud på at man følger nogle koordinater på en GPS og finder frem til nogle punkter og til sidst finder man se "skatten" der kan være alt fra noget fysisk til en smuk udsigt ud over øen og middelhavet.
I kan også opleve naturen uden at i behøver at bevæge jer selv så meget, det kan være en fordel hvis i har mindre børn, og gåturene i bjergene kan blive meget trættende. I kan vælge at tage et af de antikke tog på øen, her kan i opleve naturen og kulturen, og det er nogle meget flotte ture og kan være en god måde at opleve øen i øjenhøjde for især de mindste i familien.
Kør selv ferie på Mallorca
Hvis du vil opleve hele Mallorca og oven i købet på egen hånd kan det være en god ide, at leje en bil. Kør selv ferie er en anderledes måde at opleve øen på og tit kan det være en måde, at slippe væk fra meget af turismen der mest holder til i de største byer.
Lej en bil i forvejen
Hvis du vil holde en kør selv ferie er det en god ide, at leje en bil på forhånd når du tager af sted herhjemmefra. Det betyder nemlig at bilen er klar til dig, så snart at du lander i lufthavnen og du kan spare meget tid og spare dig selv for mange problemer hvis du gør arbejdet hjemmefra. Også transporten rundt på øen med din bagage gør det nemmere at have en bil klar med det samme.
Selvom at man beslutter sig for at tage en kør selv ferie er det ikke nødvendigt at hele ens ferie behøver at være sådan. Mange beslutter sig for at leje bilen i nogle dage hvor de har valgt at tage rundt på øen og opleve noget kulturelt, herefter kan man også få tid til at ligge på stranden uden at skulle behøve at betale for en bil som man alligevel ikke bruger.
Skøn natur
Kør selv ferie på Mallorca er meget populært, og man kan nå at opleve meget mere hvis du selv har bil og ikke nødvendigvis skal følge en guide rundt omkring. Det betyder også at du har mere tid til at opleve netop det som du har lyst til. Hvis du vil opleve naturen er Mallorca et oplagt valg, og der er mere end 4 mio. mandel og oliventræer på øen, ud over det er der også mange frugtplantager hvor der blandt andet er appelsintræer som trives godt i det sydlige klima. Du kan også køre længere nordpå mod de højere bjerge. Her finder du nogle af de smukkeste udsigter ud over middelhavet og ud over øen.
Lille ø men stort vejnet
Der er mere end 1200km vej på øen, og det er nemt at finde rundt på øen. Mallorca er på det bredeste sted ikke mere end 75km, det er en fordel hvis man ikke kun gider køreferien, men man også gerne vil tilbage til hotellet. Den de korte afstande mellem sig og dit hotel gør at man lige meget hvad aldrig kan komme virkelige langt væk fra sit hotel hvilket er en bonus når turen går hjem fra en tur.
Mallorca er god på den måde at der er noget for enhver smag lige fra de smukke strækninger langs frugtplantagerne til de snoede veje i bjergene hvor du kan komme helt væk fra turismen. Det er tit meget smukt at køre i bjergene, men man skal huske på at hvis du tit bliver køresyg, sikkert vil blive det her og det er godt at være forberedt på den slags, da turene i bjergene godt ellers kan blive meget lange.
Fincaer på Mallorca
En finca er en slags hotel eller bed and breakfast. Det er dog generelt lidt mere luksuriøst. Fincaer er tit og ofte gamle gårde eller gamle vingårde der er sat i stand. De ligger for det meste lidt ude på landet hvor man kan opleve den klassiske bondeidyl som det må siges at være.
Du lejer dig ind på et værelse og så har du en del af gården eller godset. Hvorimod at der i et sommerhus ikke er folk der hjælper dig, har fincaer den mulighed at du kan få lavet mad og sådan. Gårdene er tit meget moderniserede men der er tit ikke mere end 15 værelser så der er meget fokus på dig og du skal ikke lave noget ud over at slappe af. Selvom at der er meget fokus på det moderne, er madlavningen fra det helt gamle spanske køkken og der er altid meget fokus på maden. Det er altid de bedste råvarer tit fra egen have og omegn og maden bliver lavet ud fra det helt gamle landkøkken, hvilket der har sin helt egen charme. I prisen for en finca er også inkluderet prisen for servicen, det vil sige at få lavet mad og gjort rent. Det betyder at du blot kan nyde oplevelsen endnu mere og glemme hverdagens stress og jag.
Moderne men stadigvæk rustikt
Stilen er ny og hele godset er for det meste renoveret til grunden. Det betyder også at der tit er en pool tilhørende godset eller gården. Ud over pool er der ved de fleste gårde, en tilhørende flot have nærmest hvad vi i nogle tilfælde ville kalde en park. Den rustikke stil er gennemgående og man får en oplevelse af at man er i en hel klassisk spansk familie hvilket også er meningen. I gårdene er der tit en åben kamin og stilen er hyggelig.
Genial beliggenhed
Selvom meningen ved fincaerne er at komme væk fra turismen på øen, og slappe mere af på en stille og uspoleret gård er Mallorca stadigvæk en så lille ø at man aldrig kommer for langt væk fra øens mange oplevelser. Det vil sige at man får afslapningen og alt hvad det indebærer samtidig med at man kan kombinere det med at tage ud og se nogle forskellige ting. Fincaer ligger overalt på øen hvilket man også kan drage nytte af hvis man er ude og cykle. Det er nemlig nemt at få et værelse, og på fincaerne kan de altid engelsk så man altid kan forstå dem. Der er samtidig så mange fincaer på øen at de aldrig er helt optagede og man kan næsten altid være sikker på at der er et værelse der ikke er optaget. Priserne er selvfølgelig forskellige men det kommer også an på hvor meget man vil have. Hvis det blot drejer som en enkelt overnatning, eller en hel uges afslapning på en finca kan du være sikker på at du vil nyde den spanske kultur og det spanske liv helt tæt på.
Cykling og Mallorca
Mallorca er en meget aktiv ø, dette gælder også cykling og øen er en rigtig cykel ø. Øen har et vejnet på mere end 1200 km så der er rig mulighed for at få lårmusklerne trænet. Der kommer folk fra hele europa der også viser at øen er en meget attraktiv cykel ø. Det er ikke kun professionelle der kommer til øen men også mange motionister, der kommer for at udfordre dem selv.
Hele året rundt
Det er muligt at cykle hele året rundt ligesom at det er muligt at dyrke de andre sportsgrene hele året. Det er på grund af det varme vejr, men mange finder som regel varmen om sommeren lidt for meget. Derfor er det også godt at cykle enten i foråret hvilket mange vælger at gøre eller i efteråret hvor vejret også er godt samt at naturen på denne tid af året er helt speciel. I højsæsonen altså om sommeren er der tit også lidt for mange mennesker, hvilket der gør at der tit er mange biler på vejene hvilket der gør cykling svært og man skal bekymre sig om bilerne i stedet for at nyde turen 100 procent.
For alle typer
Der er mange sværhedsgrader og i midten af øen finder man nogle store flade strækninger hvorimod hvis man vil udfordre sig lidt mere er det en god ide at cykle længere nordpå, hvor der også er en stor bjergkæde, der kan selv den mest trænede cykelrytter finde et niveau der passer til dem. Hvis du vil være klar, til de store bjerge er det en god ide at starte i den sydlige del af øen og derefter cykle længere nordpå sådan vænner du nemlig dine ben til den belastning du får når du cykler i bjergene.
Der er rig mulighed for at leje cykler på øen nemlig fordi at øen er velegnet til cykling hvilket mange specialiserer sig i. Cyklerne kan de fleste steder lejes til en rimelig pris. Hvis du vil cykle øen rundt er det også nemt at finde små hoteller eller de lidt mere luksuriøse Fincaer som tit er gamle gårde der er sat i fin stand. Udover hoteller og Fincaer er der også mindre klostre rundt omkring på øen, her er det muligt at overnatte og klostrene stiller tit og ofte et mindre køkken til rådighed, så man kan forberede sin mad der.
Det er muligt at cykle mange slags cykling på øen og man kan cykle alt fra motionscykling og en afslappende tur hvor man nyder naturen og kulturen til en lidt mere seriøs cykeltur hvor du udfordrer dig selv i bjergene. Ud over det er det også muligt at cykle mountainbike. Mountainbike er mere intens, men også mere spændende og udfordrerne. Der er masser af ruter på øen, alle med forskellige sværhedsgrader. De fleste af ruterne er planlagt sådan at du kommer igennem nogle flotte områder og ikke møder alt for mange biler, så du kan nyde turen i stedet.
Turist attraktioner
Siden 1950'erne har øen været et attraktivt ferieområde og der er mere end en million turister hvert eneste år. Øens beliggenhed gør den til et rent ferieparadis og netop derfor er der så mange der hvert år besøger øen.
Øen har alle slags aktiviteter man kan forestille sig, beliggenheden ud for Spaniens kyst gør at netop strandende er et stærkt trækplaster. Men på grund af Mallorcas lange historie er der også meget kultur, der er værd at komme og se. Der er rig mulighed for at besøge de gamle borge og slotte på øen og der er også de millioner år gamle drypstenshuler, der findes overalt på øen. Kultur mæssigt er der i hovedstaden den gamle katedral og de gamle bygningsværker fra blandt andet romertiden.
Turisme
Der er mange turister hvert år på øen, det betyder også at mange af de oplevelser der er på øen bærer præg af at øen har turist som hovedindkomst. Så hvis du ikke gider den helt store turist sæson kan det være en fordel at tage til Mallorca uden for sæsonen, det er lige efter sommeren og til dels også i vinter månederne selvom der også er lidt flere turister i denne periode.
Der er ud over de mange gamle borge, også rig mulighed for en aktiv ferie på øen, hvor det blandt andet er muligt at cykle rundt på hele øen. Ellers kan man vandre i de to bjergkæder der er på øen og opleve naturen helt tæt på. Der er også rig mulighed for at dykke, de flotte badestrande og middelhavet gør Mallorca til et godt sted at dykke og du kan opleve en helt ny verden under vandet, hvor farvestrålende fisk kan opleves. Ud over cykling, vandreture og dykning kan man også dyrke sportsgrene som tennis og golf på øen. Øen har 19 golfbaner på trods af dens størrelse. Alle golfbaner har en stor standard. Hvis du vil opleve øen på en anden måde kan du opleve den oppefra. Det er nemlig muligt at opleve øen, fra en luftballon. Her får man mulighed for at opleve hele øen. Her kan man se hele øen lige fra de høje bjerge nordpå til hovedstaden Palma i den sydlige ende af øen, og se hele øen der er omkranset af middelhavet
Et aktiv ferie
Mallorca er velegnet til at holde en aktiv ferie på, og der er mange forskellige måder du kan være aktiv på. Der er ud over mulighederne for at cykle og vandre også rig mulighed for at løbe og der afholdes også et årligt maratonløb på øen og ud over de 42 kilometers løb, er det også muligt at løbe kortere distancer både halvmaraton og 10 kilometers løb. Man behøver slet ikke at være professionel og ud over konkurrencen er det også en god mulighed for at opleve både naturen men ikke mindst kulturen i byerne.
Mallorcas historie
Mallorcas historie er meget lang og mange af de gamle bygninger er meget end flere tusinde år gamle. Der er på øen blandt andet mange gamle bygninger borge, slotte og andre ruiner hvor nogle stadig er i brug. Dette betyder også at vi kan vide at der på øen har været et stort samarbejde med andre lande og kulturer. Det gælder blandt andet kulturer før romersk tid og langt frem. I de mange år har Mallorca oplevet mange ting både gode og dårlige tider og faktisk var Mallorca sit egent kongerige i nogle få århundrede. I andre dårlige tider har alle de baleariske øer oplevet at være besat, men i de seneste 700 år har øerne haft en tæt tilknytning til Spanien som øerne også ligger op ad.
Romertiden
Romerne har haft en stor indflydelse på hvordan øen ser ud i dag og øens kultur. Øerne blev erobret af romerne 123 fvt. Palma(øens hovedstad) blev grundlagt blot et år efter romerne overtog øen, altså i 122 fvt. i år 400 blev øerne hærget af vandalerne og senere i 707 blev øen plyndret af maurerne.
Vi ved at der på Mallorca har været en højkultur allerede omkring år 6000 fvt. godt og vel for 8000 år siden, da der stadig er tegn på en tidlig højkultur. Vi ved også at der i det 14. århundrede har været en blomstrende handel til omkringliggende lande og der har været en bondeopstand i samme århundrede. I det 17. århundrede derimod var der stor hungersnød og mange vælgede simpelthen at udvandre til Spanien i håb om en bedre fremtid.
Netop placeringen af øen har været en god grund til at mange riger har enten prøvede eller overtog øen. Men i 1479 blev det afgjort og øen kom under Spaniens kongerige og sådan har det set ud siden da.
Turismen
Turismen har gjort noget godt for øen vil mange mennesker mene. Siden 50'erne har øen nemlig været et foretrukket turistparadis for mange mennesker. Turister kommer med mange penge til øen og det har den haft godt af. Nogle af de ældre indbyggere har ikke brudt sig om turisternes indtog, men der er ikke nogen på øen der ikke har haft godt af turisternes penge og de fleste arbejder også i med noget der har forbindelse til turismen. Desværre har turismen også gjort det ved Mallorca at øen bærer meget præg af den, om det så er det man kan lide eller ej. Og øen lever mest og alt i sommersæsonen hvorimod øen hviler sig lidt når det ikke er sæson for turisme.
Det er lidt synd at øen er blevet så turistet vil mange mene og meget af den flotte kultur, de mange fæstninger og kirker bliver nemt overset selvom at øen har en så spædende historie som den har. Og øen har langt mere end bare fester og strande at byde på.
Klimaet på Mallorca
Mallorca er kendt for sit middelhavsklima med de varme somre og de lidt mildere vintre. Men hver årstid er sin egen, og hver har sin egen charme. I sommer perioden er vejret varmt, og man kan nyde de 11 solskinstimer som øen i gennemsnit har om sommeren om dagen. Mallorca ligger i det subtropiske klimabælte ligesom Spanien og derfor har øen cirka samme klima, som de har inde på fastlandet. I månederne november, december og januar er der dog knapt så varmt på øen, men der er dog at mildt klima og der er langt varmere end vi er vant til i Danmark.
Høje temperaturer
Temperaturerne i vintermånederne falder meget sjældent til under 0 grader og specielt derfor er øen også kendt for at være et dejligt sted at opholde sig i vintermånederne. Nedbøren der ikke falder meget af på øen, falder dog mest i de sene efterårsmåneder samt også lidt i december.
Vejret re så varmt på øen at badevandet allerede er klart i april og badesæsonen forsætter langt ind i efteråret hvilket er en meget længere periode end vi har i Danmark hvor vandet først plejer at være varmt nok at bade i, i sensommeren og hvis man er heldig også lidt tidligere. Vejret på øen er også meget mere stabilt, og der er meget sjældent færre end 330 solskinstimer i sommermånederne. Selvom at vejret om vinteren er lidt mere ustadigt end om sommeren, er der generelt 10 solskinsdage ud af en ferie på 14 dage, og vejret er mere mildt og behageligt. Selvom at temperaturen ikke tit falder til under 0 grader falder der ofte sne på de høje bjerge på øen og der forekommer også tit nogle lidt køligere nætter, men generelt er det langt varmere end der er i Danmark, og sikkert derfor er Mallorca også et attraktivt ferieområde om vinteren.
Godt vejr uden for sæsonen
Det gode vejr uden for sæsonen gør Mallorca specielt godt, til at dyrke sport og dyrke andre aktiviteter. Både det at dyrke sport og at kigge på kultur er mere behageligt udenfor sæsonen da det ikke er så varmt. Det kan tit være meget varmt på øen, om sommeren hvilket tit betyder at det er lidt for varmt at gå længere tid og kigge på de mange borge. Også varmen om sommeren gør at det at dyrke sport tit hurtigt kan blive meget ubehageligt på grund af varmen og man kan meget hurtigt blive dehydreret hvis man ikke er vant til at dyrke sport i den varme.
Derimod når det ikke er sæson er det mere mildt uden at være koldt, dette gør at det er godt egnet til at dyrke sport i, og i stedet for et for varmt klima er det lidt mindre varmt og nærmere lunt hvilket heller ikke gør at det er det samme klima som der er i Danmark. Netop det gode vejr og det høje antal solskinsdage gør at Mallorca er optimalt til at dyrke sport på.
Katedralen i Palmas
På Mallorca er der mange gamle bygninger og slotte. En af dem er katedralen i Palmas som er hovedstaden på Mallorca. Domkirken som hedder La Seo ligger i Palmas gamle bydel lige ud til havnen. Byggestilen minder meget om Notre Dame i Paris og er bygget i en gotisk byggestil ligesom mange andre gamle kendte kirker verden om, heriblandt domkirken i Køln. Byggeriet på kirken begyndte i år 1300 og det var den catalanske konge Jaume der satte byggeriet i værk. Byen var blot et år forinden i 1299 blevet overtaget fra det arabiske der sad på herredømmet over øen. Byggeriet tog dog omkring 300 år og kirken, var først færdig i år 1601. Siden da har katedralen stået der uforstyrret med undtagelse af en restauration i starten 1900'tallet, der var ledet af den kendte arkitekt Antonio Gaudi der er kendt for hans lidt anderledes byggerier, som man kan se mange steder i blandt andet Barcelona.
Kirken i sig selv er en et rent kunstværk og den måler ikke mindre end omkring 4250m2. Højden i midterskibet er knap 44 meter og i sideskibene er der også godt 30 meter til loftet. Kirken er knap 110 meter lang og 40 meter bred, og det enorme klokketårn måler ca. 50 meter. Ud over det er en enorm bygning og det i sig selv er ren arkitektonisk kunst, er kirken også meget flot udsmykket. De store glas mosaikker giver et flot lys i katedralen og er samtidig smukke med de mange motiver. Kirken er et symbol på Mallorca og er samtidig en af de mest fantastiske katedraler verden over og er derfor en oplevelse værd hvis du er interesseret i den oprindelige kultur som øen bærer meget præg af. Kirken er desuden meget smukt udsmykket udenpå og her kan man se mange små mennesker udhugget i sten der hver har sin specielle historie ud over det er der de mange kirkespir og mindre tårne. Hvis du gerne vil vide mere om religionen eller historie på Mallorca kan det være en fordel at leje en guide. Her kan du med fordel få stillet alle dine spørgsmål og få svar på dem alle.
Kirken ligger meget centralt i byen og i den gamle bydel ud mod den gamle havn. Den gamle bydel i Palma er meget flot og arkitekturen bærer præg af de mange forskellige herredømmer og man kan finde mange forskellige slags bygninger i forskellige stile. Naturen er Palma er meget flot og den bærer præg af at det er en ø i den varmere del af verden, her vokser der nemlig høje palmer og andre tropiske planter.
Kirken ligger tæt op af en gammel park, hvor naturen midt i byen kan opleves. På en sommerdag er det fuldstændigt perfekt at være her. I vinter månederne er her også dejligt, men med et lidt mere mildt klima og lidt færre tursiter selvom at Mallorca også er et meget eftertragtet ferieområde i vinteren.
Grotter og Huler på Mallorca
Der er over 300 huler og grotter på Mallorca og det er en utrolig stor oplevelse at se dem. Mange af hulerne er de såkaldte drypstenshuler der er skabt igennem tusinder af år, hvor vandet har skabt hulerne som man også kan opleve. Mange af hulerne er åbne for folk og man kan komme langt ind i hulerne, og opleve de specielle klipper og sten som har taget form igennem tusinder af år og som bærer præg af et fuldstændigt uberørte områder hvor der ikke har været hverken dyr eller mennesker til at ødelægge noget som helst. I en del af drypstenshulerne er der sat lys op der giver et smukt lys rundt i hele hulen. Mange af grotterne har også musikshows og det giver en helt speciel oplevelse man ikke får andre steder.
De fire største og mest besøgsværdige huler ligger i det østlige Mallorca.
Coves del Drach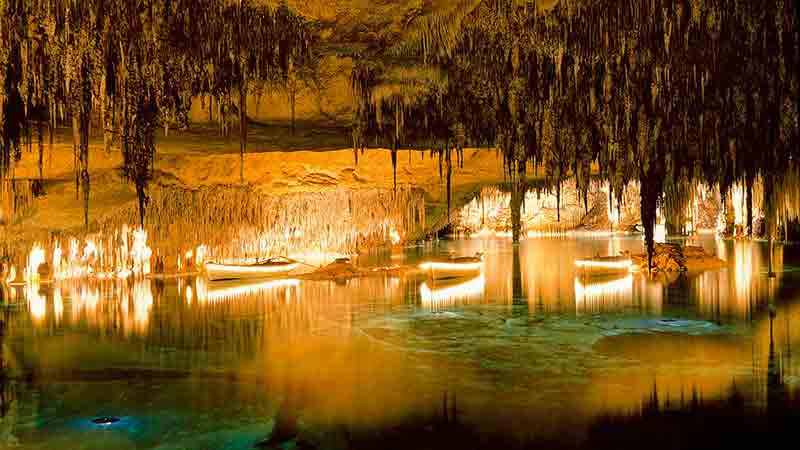 Den mest kendte grotte på øen må siges at være Coves del Drach eller Dragegrotterne som det også betyder. Coves del Drach ligger nær byen Porte Cristo og er samtidig en af øens største turistattraktioner, det betyder også at der er en del flere besøgende, end der er i nogle af de andre grotter. Du kan blive guidet rundt i grotterne, hvor du også finder en af Europas største underjordiske søer, der er helt krystalklar på grund af forholdene.
Cuevas del Hams
Drypstenhulerne i Cuevas del Hams meget berømte. Hulens klippeformationer er nemlig helt specielle og der er også en underjordisk sø. Her kan du også komme på en guidet tur, og blive guidet gennem hulerne, og fortalt de mange historier som hulerne har, og de mange mysterier der også ligger til nogle af hulerne. Cuevas del Ham ligger i nærheden af Porto Cristo ligesom Coves del Drach.
Cuevas de Arta
Ligger på den nordlige del af øen. Grotten ligger nær byen Capdepera, der ligger ud mod vandet i den nordøstlige del af øen. Specielt indgangen til grotterne er noget helt specielt. Indgangen til Cuevas del Arta er et lille plateau, der ligger højt over vandet. Grotterne er enormt dybe og når hele 300 meter ned, og ned under havets vandoverflade.
Cuevas del Campanet
Der er en sidste grotte som også er speciel. Cuevas del Campanet er noget helt særligt, og er samtidig heller ikke særligt dyr. I Cuevas del Campanet er der ikke nogen guide der hele tiden skynder på dig hvilket tit kan være en irritation hvis man gerne vil nyde klipperne lidt længere tid. Cuevas del Campanet er en lidt anderledes grotte da den ikke på samme måde er opdaget af turister, og prisen er derfor heller ikke skyhøj som den er ved nogle af de lidt større grotter. Her taler guiderne også flere sprog og er generelt mere venlige stedet er ikke så turist præget. Derimod får du lidt mindre for eksempel er der ikke nogen der sejler rundt og spiller musik, men hvis du godt kan undvære lys og musikshow for du mere for dine penge.
Golf og Mallorca
Der er rig mulighed for at spille golf på Mallorca. Der er mere end 18 mesterskabsbaner på øen. Mallorca har mere end 300 solskinsdage om året hvilket gør at det næsten er perfekt vejr at spille i hele året rundt. Netop det specielle klima der er på øen gør at der om vinteren mest er mildt og temperaturerne kommer næsten aldrig under 0 grader hvilket der gør golf på øen til en stor sport med de gode betingelser. I de senere år er der blevet lavet nogle superklasse golfbaner på øen, men priserne går fra omkring de 350 til 1200 hvilket må siges at være rimeligt i forhold til kvaliteten af golfbanerne.
Man skal dog være opmærksom på at på visse golfhuller, er der særlige begrænsninger og der kan være huller hvor man desværre er nødt til at spille senere på eftermiddagen på grund af de høje efterspørgsel. Specielt også den høje efterspørgsel gør at hvis man er interesseret i at spille golf, på øen vil det være en god ide, at bestille tid i forvejen hvis man vil være sikker på at få en tid der passer godt.
Eget udstyr
Det er selvfølgelig en god ide at have sit eget udstyr når man spiller herhjemme men, når man skal spille på Mallorca er der visse regler om transport på flyet, og det kan tit blive halv dyrt. Med det i mente er det en god ide at leje udstyret hos de golfbaner der er på øen. Der er også visse regler hos enkelte golfbaner og derfor hvis du vil være sikker på det kan du besøge de enkelte golfbaners hjemmeside. Udstyr kan tit lejes for mindre beløber som 200kr pr runde for noget kvalitets udstyr. Så hvis du ikke vil have grimme overraskelser med tillæg på flyet eller at du ikke kan spille med dit eget udstyr på den enkelte bane, så vil det være en god ide at leje udstyret.
På mange af banerne er en golf buggy inkluderet i prisen, men det er værd at undersøge da der tit er langt mellem hullerne, og der kan spares meget tid og energi på at man ikke skal gå og bære rundt på sine golf køller.
For at kunne spille golf på mange af banerne skal du kunne fremvise at medlemskab af en golfklub, et såkaldt DGU-kort men det er som meget af det andet en god ide, at finde ud af på forhånd.
Placering
Golfbanerne ligger rundt omkring på hele øen, og der er mulighed for at opleve naturen på forskellige måder på hver enkelt golfbane. Netop det er fedt ved Mallorca og sport generelt, naturen er nemlig så alsidig på øen, og nogle steder er der udsigt til de høje bjerge både i nord og i syd, og andre steder er der udsigt ud over middelhavet og hovedstaden Palma. Men alt i alt er golf livet på øen meget stort hver enkelt bane har sin charme og sin fantastiske udsigt og natur ligesom at der er golfbaner for alle forskellige folks smag.
Dykning på Mallorca
Mallorca ligger placeret centralt i middelhavet ud for Spaniens kyst hvilket der gør Mallorca til et fantastisk sted at dykke. Vandet i middelhavet er klart og rent og det er nemt at dykke rundt og se på de farvestrålende fisk. Mallorca har et velbevaret dyreliv hvilket der også gør Mallorca til et godt sted at dykke. Strandende langs med Mallorcas Østkyst er nogle af de bedste på Mallorca.
Rigt dyreliv
Specielt det store dyreliv der er langs med kysterne er specielt for Mallorca og kan ikke opleves ved mange andre strande nordpå. Når du dykker langs med Mallorcas kyster kan du opleve rødhajer, barracudaer og blæksprutter samt alle de farvestrålende fisk der vrimler med. Hvis du derimod er til en lidt anderledes oplevelse og har lidt bedre kendskab til dykning kan du tage lidt længere sydpå på øen, hvor det er muligt at dykke i nogle at de mange undersøiske grotter og langs med de klippefyldte kyster hvor der er et helt specielt dyreliv der ikke kan opleves andre steder, hverken på øen eller andre steder i verden.
Sæson
Sæsonen strækker sig fra mellem juni og oktober, her er vandet nemlig varmest og de fleste af dykkercentrene holder også lukket når det ikke er sæson for dykning. Vandet i middelhavet er generelt varmere og når det er sæson og du samtidig har en dykkerdragt på er vandet overhovedet ikke koldt.
I de mange dykkercentre der er rundt omkring på hele øen, er det mulig at få et prøvedyk. Specielt hvis du aldrig har dykket før, er det en god ide og være afklaret om det er noget man vil. Netop fordi at du er nødt til at tage et dykkerkursus før at du kan dykke. Derimod hvis det ikke er noget man ikke vil, kan du stadig snorkle, og udstyr kan lejes ved de mange dykkercentre og, ved snorkling behøver du ikke at have taget noget kursus.
Mallorca er et godt sted at dykke og et godt sted at starte hvis du ikke er vant til, at dykke da størrelserne på fiskene og generelt dyrene ikke er de største og hvis du ikke har prøvet at dykke før, er Mallorca et godt sted at starte op. Der kun et mindre problem ved at dykke, på Mallorca og det er at der er mange der oplever gopler. Goplerne er ikke i den grad farlige, men det gør stadig ondt at blive brændt. Hvis du oplever mange gopler et sted for eksempel i en mindre bugt, kan det nogle gange være en fordel at prøve at tjekke den næste bugt. Mange oplever nemlig at når de gør dette er der ikke nogle de den næste og man kan tit være heldig.
Udstyr
Kan lejes ved de fleste af dykkercentrene men det er godt at være forberedt på priserne og at du faktisk kan leje udstyr ved det enkelte dykkercenter. Ud over det kan ens eget udstyr medbringes og hvis man selv ejer udstyr kan der spares mange penge på det område.
Badestrande
På Mallorca er der rig mulighed for at få sig i en dukkert i middelhavet. Der er et rigt antal af strande på øen men variationen er stor. Nogle er lange smukke sandstrande hvor andre er bærer præg af klippeøen og bunden mest af alt består af sten. Begge dele har dog hver sin charme. Klimaet på Mallorca er subtropisk og øen har en middeltemperatur på over 17 grader hele året tilsammen. Den gode badesæson strækker sig fra april til november måned hvor vandet er varmt nok, men de fleste danskere vil opleve at man godt kan bade uden for denne periode da vi er vant til en del koldere sommer end de er her. Mallorca er kendt som et ferieparadis og badestrandene er i den bedre ende. Der findes rigtigt gode og børnevenlige strande på øen. Næsten alle øerne er nemme at komme til men der findes også små laguner rundt om på øen der er lidt sværere at komme til.
Mange strande
Der er 65 strande og 20 havne der har fået det blå flag der betyder at de løbende bliver tjekket for alger og bakterier, så man kan vide sig sikker når man tager sig en dukkert. Badevandet er også specielt godt fordi at vandet er så varmt, det meste af året, og har en langt højere standard end hvad vi er vant til i Danmark. Badesæsonen er langt længere og vejret er samtidig mere stabilt end den danske sommer. Middelhavet er også kendt for det varme vand, og Mallorca er bestemt ikke en undtagelse. Generelt er vejret i området meget bedre, end hvad vi er vant til Danmark og der er næsten 100 procent sol garanti om sommeren. I midt sommeren er der omkring 330 solskinstimer på Mallorca hvorimod vi i Danmark ligger omkring de 200-210 solskinstimer.
Ud over de mange strande er der også de mange små laguner, hvor der ikke er nær så mange mennesker og man tit og ofte kan have det for sig selv netop fordi de tit er sværere at komme til. Hvis du gerne vil opleve de strande der ikke er så turist prægede, er det en fordel at tale enten med de lokale eller snakke med en guide i stedet for at gøre som alle de andre. Langs med kysterne er der også mange smukke klipper og naturen generelt på Mallorca er meget smuk, her kan man tit og ofte svømme og snorkle hvis bølgerne ikke er alt for store. Langs med kysterne er det muligt at snorkle, og se på de mange smukke fisk. Hvis du vil dykke kan du også godt komme til det, men hvis du ikke er vant til at dykke er det godt at have en guide med og det kan nemt arrangeres, i samarbejde med de mange dykkercentre der er på øen.
Badelande på Mallorca
Mallorca byder på mange vandlande, og en tur i vandland er genial om du så er et barn eller en voksen der elsker at suse ned af vandrutsjebanerne. Der er her samlet en liste over de største vandland på øen der har aktiviteter for både store og små.
Hidropark
Hidropark er en af de mange badelande der er på øen. Badelandet er ikke et særligt stort badeland. Derimod har parken en masse gode og sjove vandrutsjebaner. Når først entreen er betalt er alle forlystelser gratis hvilket også er et plus. Ud over de mange vandrutsjebaner er der mange pools i parken hvor en af dem er med bølgebassin.
Hidropark ligger i den nordlige del af øen ved byen Alcudia.
Western Water Park
Western Water Park er et vandland med et western tema hvilket man også kan høre i navnet. I parken er der masser af vilde vandrutsjebaner. Ud over vandlandet er der også en del anden underholdning, blandt andet er der et vand show hvor cowboys og fængselsfanger kæmper og springer i vandet fra op til 30 meters højde. Western Water Park har også et legeland der er velegnet til mindre børn, men parken er alt i alt mere for de lidt ældre legebørn, da meget af parkens indhold er de meget vilde vandrutsjebaner, der ikke alle sammen er velegnet til de mindre børn. Ligesom Hidropark er alle forlystelserne gratis når du først har betalt entre.
Western Water Park ligger placeret omkring 15 minutters kørsel fra hovedstaden Palma der ligger på den nord østlige side af øen ud mod vandet. Der kører mange busser til vandlandet – mest fra de største byer på øen, og meget af bustrafikken på øen er gratis hvilket er et kæmpe plus.
Aqualand Megalufs
De to ovenstående vandland er måske mest for to slags gæster, de lidt yngre og de lidt ældre i Wester Water Park. Herimod er Aqauland Megalufs for hele familien hvilket gør det til et helt specielt vandland. Det betyder også at vandlandet har en hvis størrelse, og parken er også en større en af slagsen. Hovedattraktionen på øen er den enorme vandrutsjebane Boomerang, der har et fald på over 40 grader, hvilket der gør at man opnår en enorm fart og vandrutsjebanen er en af de bedste. Ud over den vilde rutsjebane der mest er for de unge, er parken utrolig børnevenlig, og der er masser af aktiviteter til den yngre del af familien. Blandt andet er der legeland og bassiner med lavt vand.
Aqualand Megalufs 15 minutters kørsel vest for hovedstaden Palma, og der kører også mange gratis busser.
Aqualand El Arenal
Her finder du også vilde rutsjebaner og legeland for de mindste. Der er mulighed for afslappende aktiviteter som at flyde rundt i Congo River i en gummiring, og at rutsje om kap i den mange andre forlystilser. Ligesom mange af de andre parker, gælder det at når du først har betalt, er alle aktiviteterne gratis.
Aqualand El Arenal ligger lidt øst for Palma, og her er der også mulighed for at tage en bus lige til hovedindgangen.