Hvis man skal have en flad mave så skal man da lave mave øvelser ikke? Nej, intet kunne være længere væk fra sandheden. Fedt på maven skal først og fremmest spises væk. Vil du have en stor tydelig sixpack, ja så må du igang med mavetræning, men øvelser til flad mave har meget lille effekt hvis du har en tyk mave.
Spis maven flad og tab fedt på maven hurtigt. Fedtforbrænding er tæt på nul med et træningsprogram til hurtigt vægttab på maven. Styrketræning af mavemuskler skal gøres for at styrke maven og ikke for at forbrænde fedt. Derfor bør mavefedt øvelser ikke være i fokus så længe der sidder et bildæk rundt om livet. På denne side kan du se 5 opskrifter som smager fantastisk og giver dig følelsen af junkfood, men har færre kalorier, masser af vitaminer og sund kost som får dig til at tabe fedtet. Så kom i gang i køkkenet og tab dig på maven uden mavetræner, maveøvelser eller svend på panden.
Meatlovers Pizza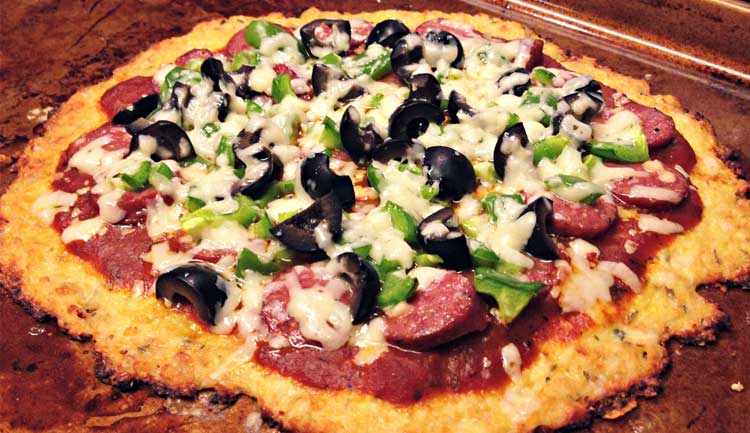 Du kan lave din egen pizza på 10 minutter. Det halve kalorier og super smag. Som bund er der mange muligheder. Det nemmeste er at bruge en tortilla bund. Denne løsning er hurtigt og har meget mindre kalorier end en traditionel bund. Men hvis du skal se mavefedttet smelte hurtigt anbefaler jeg at du bruger en af de følgende: Blomkål, sweet potato, butternut squash, aubergine eller almindelig squash. Jeg fortrækker blomkål og sweet potato bunde. Ved sweet potato og butternut squash skal du varme dem i skiver i ca. en halv time før du fylder fyld på og giver den sidste varme. Vælger du aubergine eller squash skal de bare varmes efter fyldet er kommet på. Blomkålsbunden er den der tager længst tid at lave. Der findes mange gode forsalg på nettet. Søg efter blomkålspizza og få hurtigt et overblik.
Gå bare til den med fyld. Godt med kød, grøntsager, tomatsovs og ost. Lav gerne ekstra så du har til en aftenssnak.
Sweet potato burger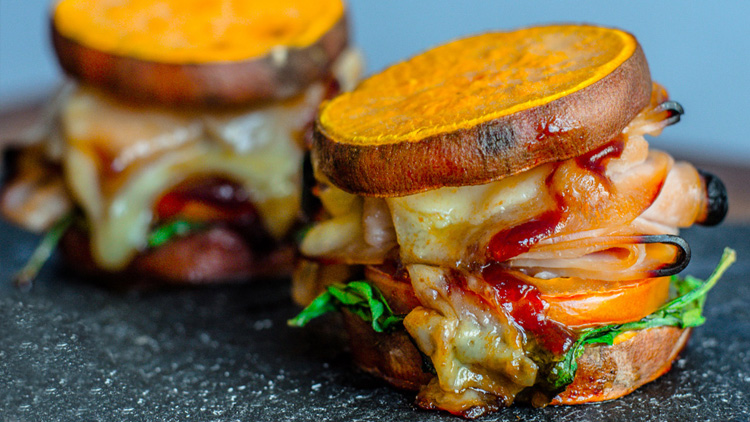 Hvorfor fylde munden med en fed burger, når du hurtigt kan lave en super lækker burger med fantastisk smag, masser af vitaminer og få kalorier. Sweet potato er kun en af de mange muligheder der findes som erstatning for brød. Du kan også bruge portobello svampe eller butternut squash.
Den eneste du skal gøre er at lave din burger som du plejer med den untagelse at brøded bliver droppet til fordel med mad der har ned til en 1/10 af kalorierne og meget mere næring.
Du kan se et forslag hos Fitmencook.com (Fantastisk hjemmeside)
Spicy Tacos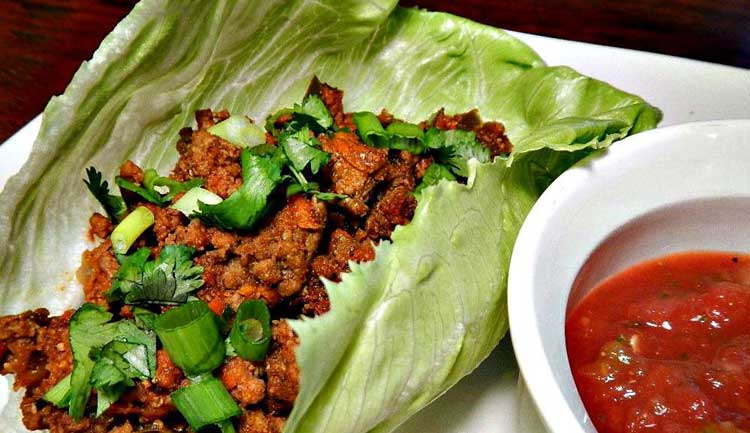 Nu kan du have 'Taco Night' hver eneste dag samtidig med din mave skrumper. En taco er kun usund pga. nacho bunden. Fjernes denne har du opskriften på succes. Det nemmest er at bruge store salatblade, men du kan også bruge blomkål på samme måde som med pizza. Det kan også anbefales at blande oksekød op med samme mængde frosne grøntsager der har være igennem en foodprocesser. Dine tacos vil i sidste ende have ca. 1/3 af kalorierne og stadig smage fantastisk.
Pølser med Pommesfrites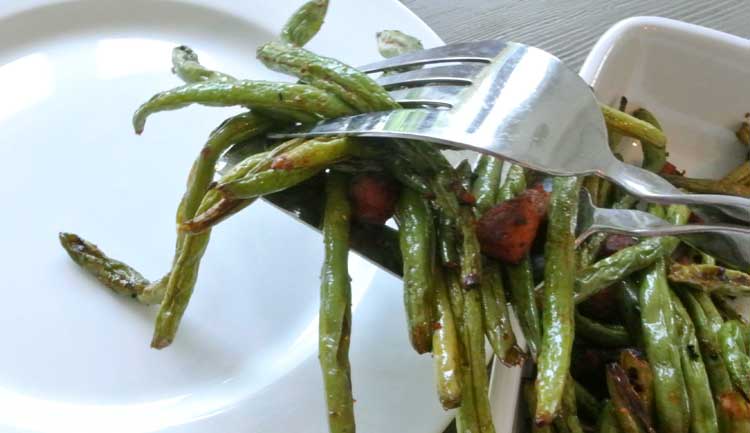 Ingen junkfood liste er komplet uden pølser med pommes frites.
Okay, du kikker på billedet og tænker, det er famne ikke pommes frites. Du har ret, det er grønne bønner. Du tror det er løgn men grønne bønner kan komme utroligt tæt på smagen af pommes frites. Det bedste resultat får du i en Actifry som virker som en frityre næsten uden olie. Har du ikke sådan en ved hånden må du nøjes med at varme dem i ovnen med en lille smugle olie og salt. De skal være helt sprøde før du tager dem ud. Jeg vil anbefale pølser fra Løgismose og Hanegal der består af mere kød end gennemsnittet. Du kan selvfølgelig også tage en god bøf til hvis du er til bøg og pommes frites.
Mexikan Borito med Chipotle chili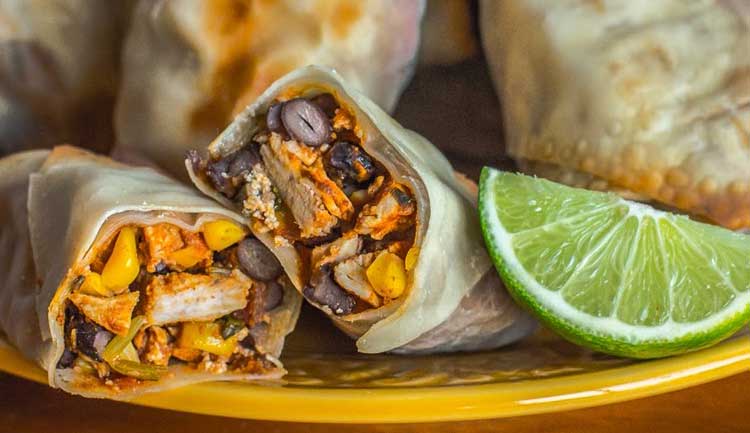 En burito der får mundvandet til at løbe. Kevin fra Fitmencook er opfindere af denne burito. På hans Youtube kanal kan du se ham forklare opskriften på 1 minut.
Tak til Bichel.dk for inspiration til opskrifter.